Yes you guys, I haven't posted any Fitness Fridays in ages (years?) but I'm hoping to make this a regular occurrence. I actually have some things to write about!
Starting the first week of March, I've begun a workout regimen that I am still continuing and plan to continue from here until whenever. Sometimes it's frustrating and I don't want to do it but…
It's really working. I've obviously lost inches (because my pants are fitting too big) and I weighed myself last weekend and am down 5 whole pounds! I know that doesn't sound very impressive, but I have done all this only with workouts and adding more vegetables to my diet. I'm not on any food program, I'm just trying to eat a more balanced day-to-day diet. I've started to do a lot more research on actual nutrition and it's becoming more and more apparent that I'm doing *everything* wrong.
Though I am proof you can subsist on burritos and spaghetti.
So: what exactly am I doing? I'm working out five days a week and kind of loving it, is what I'm doing. The fact that "workout" and "love" now exist in the same sentence is truly amazing and still surprising to me!
A few months ago, after Christmas, my mom got me a small NordicTrac mini-stepper for half off at Sears. I was like, ok whatever go ahead when she asked if I wanted one, and after I tried it the first time and nearly killed myself it went into the corner until the first week of March when I had to go to the doctor. Knowing I tend to get high blood pressure only while at the doctor I decided to try to exercise the first few days before the appointment to hopefully get the endorphins going or whatever.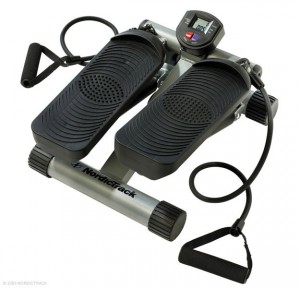 This failed, totally, and I got into a big fight about blood pressure with the nurse practitioner and they not only took my precious birth control away and gave me shitty "mini pills" (which they weren't even going to give me until I put up a fuss and it turns out a large chunk – the most important chunk – of my medical history hasn't made it into my electronic records, but that's a snit for another time) and also, since they apparently thought I was going to stroke out, even sent me up to the blood pressure clinic.
Once I was at the blood pressure clinic, having successfully retained some sort of birth control pill (I take them for health/quality of living reasons) my blood pressure had zoomed back down into the normal range and the nurses up at the BP clinic basically were like, why did they send you up here? Because nobody believes me that I have white coat syndrome, that's why!
Anyway, so I decided that in order To Show Them (and to get my real pills back), I really had to stay committed to my own health. Revenge! It's the best motivator.
And since I've been having luck and feeling so much better, I'm definitely motivated to keep going. I'm probably boring everybody with all my health/stepper talk, but I don't care. Six months or a year from now I'm probably going to be seriously badass.
(Yes, I'm partly into this in order to be able to survive the zombie apocalypse). ;)
The Workout: 
Monday, Tuesday, Wednesday, Friday: stepper and weights, alternately working chest/triceps and back/biceps. Sundays: 3 mile walk at the reservoir plus weights if I remember. [Note: depending on my schedule I will either work out Thursday OR Friday; Saturday is my dedicated "rest" day]