End of year meme for my recollection and edification.
1. What did you do in 2013 that you'd never done before?
Rode the CalTrain, tailgated, attended a box game at the SF Giants' stadium. (I had previously attended box games at A's games… I'm spoiled, haha)
2. Did you keep your new year's resolutions, and will you make more for next year??
I made ZERO new year's resolutions as usual but I do have one for 2014, and that is DRAW MORE (or at all, really). I find that trying to make THIS YEAR YOUR YEAR can only lead to failure, but having a mindset that you're not getting any younger and you may as well start today with whatever it is you want to do is far more beneficial. Hence my current 23.4 lb weight loss (as of 12/30/13!) which I never would have done without just doing it and going for on September 2.
3. Did anyone close to you give birth??
Nope! This is year has been one of the first baby-free years in awhile! Though one of my co-workers had a baby and he is pretty much the cutest baby I have ever laid eyes on, for reals.
4. Did anyone close to you die?
My cousin R died in February and that was a bummer. He was really instrumental in helping me learn more digital art skills by getting me Bryce 3D years and years ago. I really appreciate that.
5. What countries did you visit?
The United States of America!
6. What would you like to have in 2014 that you lacked in 2013?
Money, time, more friends, pants. Evaluating the friends thing… I have managed to make a couple of new friends this year and that's been really nice. I have felt rather isolated with my closest friends being far away so to have some local friends finally… it means a lot.
7. What dates from 2013 will remain etched upon your memory, and why?
July 5th- my birthday, had a fun time at Havana in WC and September 2nd, the day I started hardcore on my health stuff. It happened to be the first day I used MyFitnessPal and the first day of Level 2 of the 30 Day Shred, which is hard. The last Saturday in July when we went to the baseball game in the Tony Bennett Suite at AT&T park, was pretty fun! I've become spoiled with some of our work perks, and box games is one of those things! Hopefully we have some more opportunities this upcoming summer. :)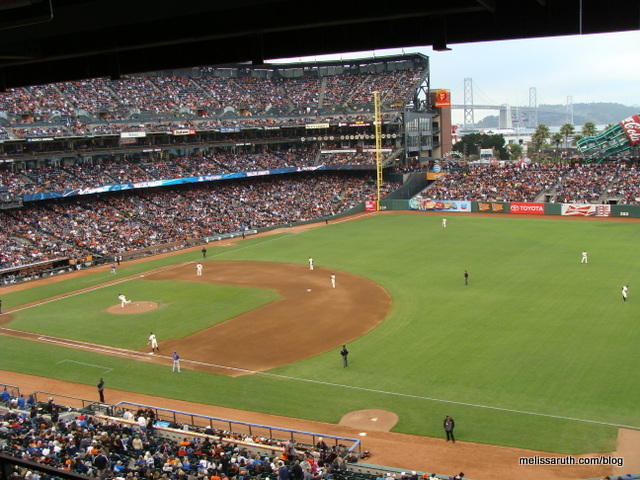 8. What was your biggest achievement of the year?
- LOSING TWENTY-THREE POUNDS IN 4 MONTHS
- Shaving about 4-6 minutes off our time at the Lafayette Reservoir
- Adding a number of healthy options to my cooking repetoire
- Saying "YES" to more things.
- Having two new legit friends.
9. What was your biggest failure?
Well, that whole "dating" thing. And I do still have tendencies to overreact hysterically when presented with too much information all at once.
10. Did you suffer illness or injury?
Yes, I was sick A LOT this year – for almost two months total if you count the 32 days I had the flu in January/February, my bout with food poisoning in Reno, and two more weeks of a cold in October and then two MORE weeks of congestion in December. It has been unpleasant in that department.
11. What was the best thing you bought?
My tablet and my running shoes. Actually I got myself both of those for my birthday, and they have really served me well since.
12. Where did most of your money go?
Bills bills bills, nail polish. My Disneyland trip was a wee bit more expensive than planned, lol.
13. What did you get really excited about?
My birthday, LA/Disney trip in October. Tailgating at one of the Battle of the Bay games in May (A's vs. Giants, our homegrown teams! Was really fun!)
14. What song will always remind you of 2013?
Daft Punk's Get Lucky. There was an incident that involved dancing at a bar.
15. Compared to this time last year, are you:?
– happier or sadder? Happier, I think! So so stressed out, but happier.
– thinner or fatter? THINNER!! FOR ONCE IN MY LIIIIIFE
– richer or poorer? RICHER (woooooo!!)
Hmmmm… this year was better to me than recent previous years, I think.
16. What do you wish you'd done more of??
Traveling, for sure, but I just didn't have the time/money/energy. I'm over Disney for now so at least I can focus on other potential trips in the next 18 months – Texas, Florida, Germany maybe.
17. What do you wish you'd done less of??
Being anti-social. But I try to go to most of the work functions and try to go to most things I'm invited to. Had to bail on two recent things because I was too tired/sick and that was a bummer because they sounded like they were fun (though one did end up with someone puking in the backseat of a car…)
18. How did you spend Christmas?
At my house for Christmas Eve with my mom's side of the family. At my parents' house in the morning for Christmas Day with just us and then my uncle's house for the afternoon with my dad's side of the family.
19. What was your favorite TV program?
Orphan Black – probably the best acted and tightly plotted show of the year.
Game of Thrones – I finally fell for Game of Thrones after something like 14 episodes (had to justify my HBO subscription, you know), and season 3 was killer… literally… heh (Red Wedding!). Now that I like the show and actually know which character is which, I'd like to go back and watch from the beginning, I think I would like it a lot more.
Nashville – what can I say, I love a good nighttime soap, and Nashville is extremely soapy.
Supernatural - always and forever in my heart, Winchester Bros.
20. What were your favorite books of the year?
Magic Rises by Ilona Andrews
Clean Sweep by Ilona Andrews (online serial)
Silver Shark by Ilona Andrews
Married for Christmas by Noelle Adams
Bittersweet by Noelle Adams
I… really like Ilona Andrews – they're my current favorite author. And I recently discovered Noelle Adams and have been reading through her backlist on my Kindle App. This was a light year for reading for me, aside from blogs and online stuff. Sorry brain, I didn't really stimulate you much. :/
21. What was your favorite music from this year??
I don't think I bought a single album this year. Or downloaded any music (I never do, though). I did listen to a lot of radio and enjoyed Imagine Dragons, AWOLNation, Lumineers. Fell hard for Mumford & Sons. Last year's favorite Of Monsters and Men became way overplayed and if I hear Dirty Paws one more time I'm going to scream.
22. What were your favorite films of the year?
The movies I saw in the theater were:
Hunger Games: Catching Fire
Pacific Rim
Oblivion
Oz: the Great & Powerful
Star Trek: Into Darkness
I loved Pacific Rim – it met all my expectations of robots vs. monsters plus the epic bonus of robot wailing on a monster with an aircraft carrier. BONUS: IDRIS ELBA. I could listen to that man talk all day long.
However, the movie that I liked the most and has stayed with me the most is Cloud Atlas. I actually think it may be one of the greatest movies I've ever seen. It came on HBO or something a couple months ago and I was like, ehh, I guess I'll watch this, and oh man, it turned out I really wish I'd seen it in the theater last year. I'm not even sure what exactly struck me, the intricate story telling, the excellent performances… I may even try to tackle the book it was based on.
23. What did you do on your birthday, and how old were you?
33 – mojitos at Havana, then we hung out at my house and played Cards Against Humanity. It was a good birthday!
24. What one thing would have made your year immeasurably more satisfying?
Not getting sick every time I turned around, that would have been nice. More $$$. I know, I know, money doesn't solve your problems, but having more of it would solve some of my $$$ problems, heh.
25. How would you describe your personal fashion concept in 2013?
Right now it's "Nothing fits." And, "Hey, that kind of fits, let's wear it." And, "Ooh, maybe I have some pants in the giveaway pile that fit, sorry charity!" I did, and they do.
26. What kept you sane?
Hahaha. I am coming off a pretty stressful month and need to sleep for like days. Honestly, a lot of my really harder workouts were a blessing as they really cleared my mind and made me feel better about life. And did I mention I've lost 23 lbs?! ;)
27. Tell us a valuable life lesson you learned in 2013?
Two things:
1. If you want to lose weight, what matters is diet and exercise. Damnit. They weren't kidding. Eat at a calorie deficit and be more active. I've had total success with this and while I have a long ways to go still (I'm about a third done, and when I reach my goal I will evaluate if I want to lose more – I suspect it will take me most of 2014 to reach goal, but I'm hoping that a year after I started I'll be there)
and
2. Being open to people, to feelings, to experiences. Be less afraid to express yourself; your feelings matter.
***
It's been a year. Hopefully 2014 will be a good one.