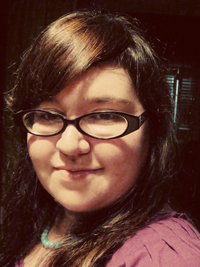 Hi, my name's Melissa and this is my blog. I've been blogging around the interwebs since 2001, and this is probably the third or so incarnation and I never save archives so there you go.
I have a BFA in Art/Drawing from the University of Texas at San Antonio. I draw with traditional media, particularly ink, as well as digitally. I have an Intuos 2 graphic tablet that I use primarily with Adobe Photoshop.
I design jewelry and love to make earrings and necklaces in particular. I have a fondness for middle-eastern and Hispanic ethnic styles when it comes to jewelry. Right now I'm working in chain and metals with a vintage edge.
I knit – mostly socks and shawls. My favorite sock yarns are Madelinetosh Sock and Sanguine Gryphon Skinny Bugga!.
I live in the San Francisco Bay Area, where it is still too cold for me, despite the fact that I am technically a native Californian. I bought my house in December 2008 and it is a work in progress with loads and loads and loads of wood paneling to paint.
Contact Information
Please feel free to email me at pynnski (at) gmail (dot) com. You can also find me on Ravelry as pynnski.
Why "Behind the Smile"?
Behind the Smile is the name of a Matthew Sweet song, part of which goes like this:
I have seen my perfect day
I have watched it fade away
you know I'm fighting to be real
I haven't been a good friend
for a long long time
you know I wasn't happy
behind the smile
At the inception of this blog, it seemed like the thing to do (for a variety of reasons), and has since stuck.