Since I'm clearly on a shawl kick at the moment, I pulled all my finished shawls out of their special shawl drawer (yes, they really have one) and laid them out on my bed to compare with each other. I was curious to compare the different sizes of the different projects with each other, since Eiki turned out a bit larger than I was expecting.
Eiki, Brandywine, and Aeolian are basically the same size, with Aeolian edging out the others by a bit. By virtue of its construction, Eiki is larger than Brandywine, which is more of a true triangle shawl – both Eiki and Aeolian are curved to some degree.
The smallest shawl is my small orange Ishbel, then the Swallowtail shawl.
My least favorite shawl is Charlotte's Web, my favorite is Eiki. (Favorites are, as always, changing and somewhat subjective.)
The best shawl I've made is Aeolian, by far.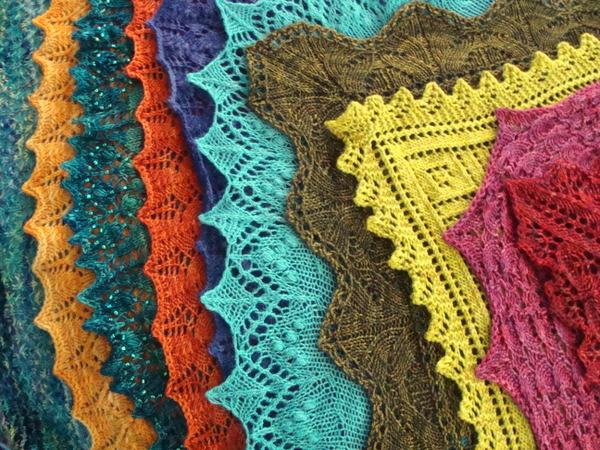 From left to right, in order of when I knitted them, oldest on the left: Charlotte's Web, Swallowtail Shawl (yellow-orange), Aeolian (turquoise, beaded), Ishbel (small; orange), Ishbel (large body, small edge; purple), Annis (light turquoise), Damask (olive green), Brandywine (mustard yellow), Bellingrath (hot pink), Eiki (dark red). Not pictured: Multnomah, which lives at my mom's house.
Considering the trouble I went to to get the Charlotte's Web pattern, and the Koigu to knit it with, I'm super irked that I don't really like it all that much down the line. I may take the unholy fringe off and reblock, which will help, but at the end of the day, I just don't really like the colors. At the time I knit it the pattern was at the height of its popularity, in 2004ish. I really liked all the different ones I was seeing on the blogs and was just dying to make one. I finally tracked down the Koigu and the pattern at Hill Country Weavers in Austin, TX. My friend Daphne and I were staying in Austin with her mom, who was at a teacher's conference there. That was a fun trip – we were only there for a couple of days, and went to Plucker's, a delicious hot wing restaurant, the world's biggest Half-Price books (so big, in fact, that neither of us bought anything – we were both a little overwhelmed!), a mall, a couple of bead stores, drove through UT Austin (Longhorns, boooo), and stopped at Hill Country Weavers, which is one of the best yarn stores I've been to in this country (and Lord knows I've crossed off quite a few on my list). Here, I finally found the koigu I'd been searching for. I liked the colors I chose at the time all right (they didn't have a huge selection), but they never won me over. I'd like to make the shawl again, but in my signature blues/greens/turquoise.
Under-the-sea colors, if you will. And I wouldn't use Koigu, I'd likely use stash yarns.
I was unable to resist piling the shawls in rainbow succession: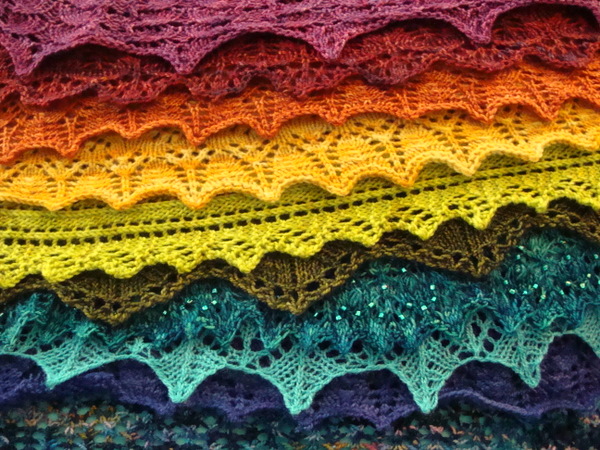 I could go for a few more colors stuffed in there, yes? A true green for sure, and a blue, both of which are on the needles, actually. More on those later, I'm terrible at photographing WIPs. But I'm working on a Snuggery Shawl in the Sanguine Gryphon Eidos I got at Stitches in an awesome green colorway (Hydra), and the Holden Shawlette in a yarn that I lost the ball band for, but got at Stitches I think 2 years ago in a lovely royal blue.
I'm still sick, what is this plague???