I'm in the early stages of a free month of Netflix. A couple of weeks ago my cousin and I were talking about SeaWorld for some reason and she mentioned the documentary Blackfish. I had heard of it, but hadn't seen it. I have, however, been to SeaWorld. The summer of 2004 I had a season pass to the San Antonio park. I went three times.
I had seen the Shamu show and it made me nervous the same way that ice skating and ballroom dancing make me nervous: I always wait for something bad to happen, like, somebody falls or gets dropped. In the case of the killer whale show I expected somebody to get chomped or flattened. I've always thought that orcas were too big for captivity and it always made me sad to see them in the small pools (possibly seeing Free Willy as a kid has something to do with this opinion because dolphins, whale sharks, and other ocean animals do not bother me at all to see them in captivity). Or maybe just having a general sense of physics – orcas are big and seemingly intelligent, the SeaWorld pools are small.
Anyway, so I was curious about watching Blackfish.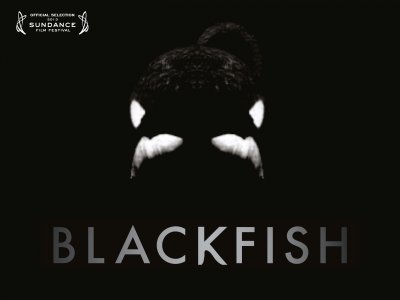 The documentary discusses killer whale performance and captivity and is centered around the death of a SeaWorld trainer in 2010 by a whale who had previously displayed violent tendencies, and had been involved, however directly, in two previous deaths, one in Canada and one also at SeaWorld Orlando in 1999. Former SeaWorld trainers were interviewed discussing various aspects of behind-the-scenes life at SeaWorld and various other incidents of killer whale violence.
The film does a good job of getting their point across and I definitely would recommend watching it. However, it is clear propaganda –  an anti-SeaWorld point of view from what I believe are essentially animal activists. The filmmakers have a clear agenda for wanting to shut down SeaWorld and similar parks. At no time did they ever address the conservation efforts that SeaWorld has accomplished, nor did they interview any current employees of the company. I also would have liked to see the point made that the reason for keeping some animals in captivity is to educate and to promote conservation efforts in natural habitats.
Some further reading:
From MySA.com: Ex-SeaWorld trainers dispute 'Blackfish,' say phase out whale show
From SouthernFried Science: Blackfish: the Science Behind the Movie
From CNN: 'Blackfish' film ignores SeaWorld's benefits to conservation, research
SeaWorld's Rebuttal: Truth About Blackfish
There is a lot of information out there – and it's a subject worth learning more about. I think Blackfish is a good place to start, but you can't take everything at face value. I am, currently, mostly undecided on this subject, but leaning towards "not a fan of killer whales in captivity" if only, because it seems so sad for such big, intelligent creatures to be kept confined.
(I am totally pro those whale sharks at the Georgia State Aquarium though so take my opinion with a grain of salt. Those guys would have been eaten out of Taiwan's then-quota of allowable whale sharks caught for food. They may be in captivity but at least they are not lunch.)