Back in April/May of 2013, I randomly got a bee in my bonnet to KNIT A SWEATER™ and I'm not really sure where it came from (probably Pinterest) but I decided I wanted to knit SCHWAAN, the cover sweater from Norah Gaughan Vol. 8. And so I started, with the wrong type of yarn and nowhere near gauge.
The first go didn't work too hot but I was able to determine what did and didn't work, and that I really did not want to handknit a whole sweater that involved purling in any way (there's a reason that my other sweaters I've made have been in the round!) so I decided to uncover the Ultimate Sweater Machine from underneath the pile of mail and do a swatch.
I had a bunch of Knitpicks Comfy (a worsted weight cotton/acrylic blend) that I'd started a sweater with oh, last year or the year before, but it had gone to the wayside due to knitting ennui on my part and too many purls. I'm a Continental knitter and I've never really figured out a way to purl that isn't completely annoying/slow, which is why I generally like to knit top-down/in-the-round*. I'm sure that's not uncommon. Anyway, so once I determined that A) the sweater needed to be bigger and B) I really hate knitting boring stockinette in flat pieces (cursed purls) I decided to bite the bullet and go the knitting machine route for the solid stockinette sections.
In the case of SCHWAAN (yes I feel it's necessary to capitalize every letter) I was interested in handknitting the edges and the front lace panel. The actual construction of the sweater was interesting to me as well – it seemed like it was put together slightly different than regular sweaters (set in sleeve or raglan – seemed a bit of a hybrid though mostly raglan).
That left me with the mass amounts of stockinette to knit once I'd done the edges and I had the sweater parts completed in about three evenings. Seaming took another evening and then I had a sweater about a week after I started the process (including the day or two that I spent handknitting and then deciding I didn't want to handknit the whole thing.)
So, SCHWAAN: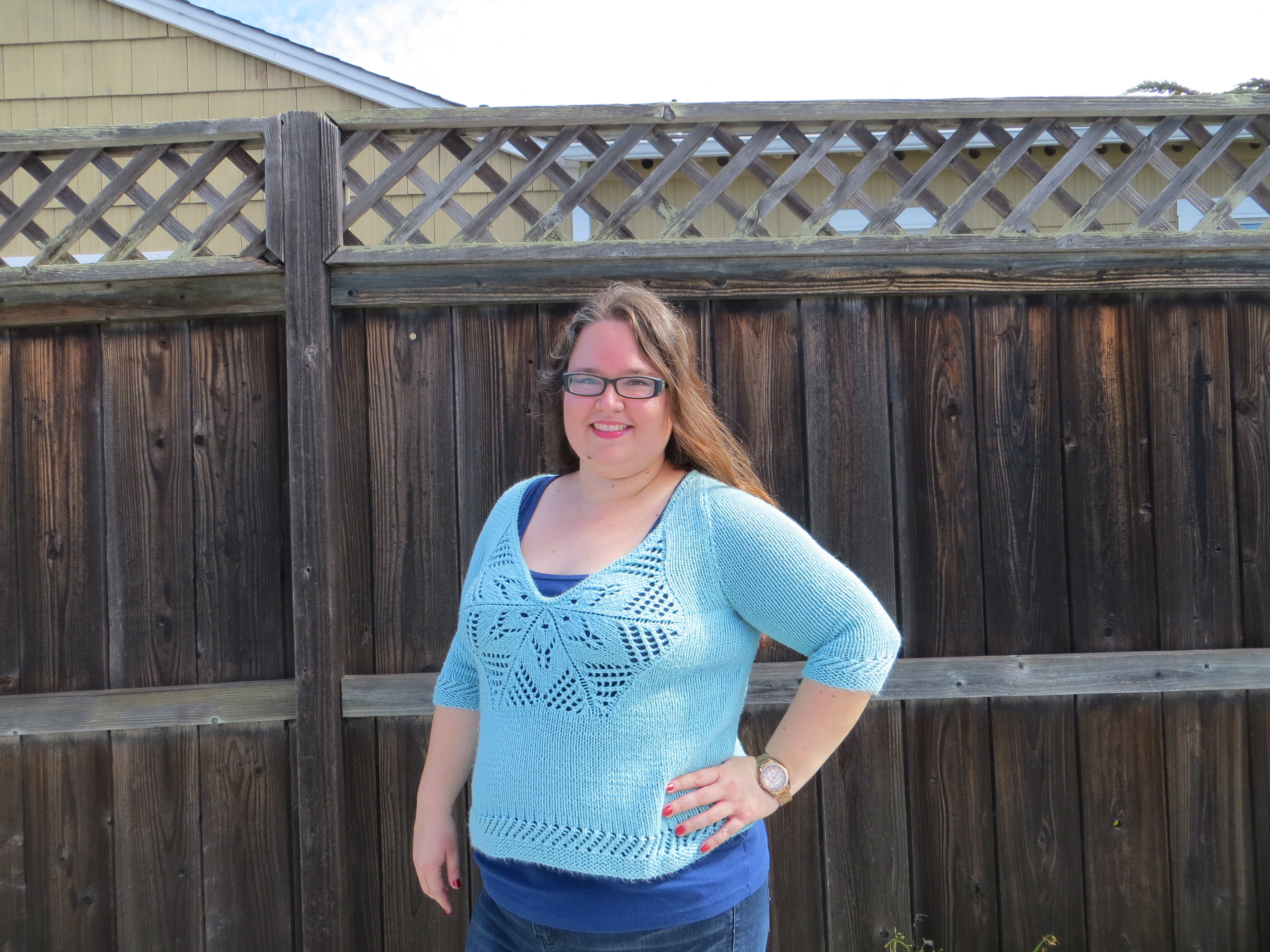 It has its problems – namely the armholes need to be a little bit bigger, as do the arms (I read later that several Ravelers had noted that the arms seemed tight) and it needs to be longer, though the latter is a personal preference due to fit – I have a long torso. However, it's totally wearable! (#win)
I followed the pattern exactly for the largest size since my gauge was mega off. This only took just 8 skeins of Comfy – more like 7.5.
I ordered two more colors of Comfy and plan to make two more SCHWAANS – one a pale pale almost white turquoise, the other a rosey red. I ordered ten skeins of each which I think will be sufficient for the added inches, plus it will be slightly smaller since I'm somewhat smaller. The back only took 2.5 skeins so I wouldn't think I'd need more than a half skein per front/back to achieve an extra 2 inches of length (maybe three – we'll see). The white one will probably be completed as written but I'm toying with doing clean edges; i.e. a folded hem. The red one will have a 2×2 rib but no lace on the edge.
I also worked out a better way to bind off directly from the knitting machine – it's a little time consuming but much nicer looking than the way I initially learned how. So I'm looking forward to incorporating that into the new SCHWAANS, including all of the tricks I learned while seaming SCHWAAN #1 together. Not sure which color I want to do next, or if at this juncture two years after the fact, if I want to still make two. Maybe the red wants to be something else. The white is definitely destined to be a longer sweater.
Incidentally, my sister, who took the above picture, asked me, somewhat critically, "Did you MEAN for your sweater to be this length?" A sisterly way of saying it is too short, haha! But she's right, it's too short. Doesn't mean I won't still wear it though.
_____________________________________________________________________
*This does not explain Vaila (or Flowing Lines! Newly knit in 2015!), which is a lace pattern on a sea of purl. Loved knitting that sweater, though I did turn the arms inside out and knit them in the round instead of purl, hah.