I have been going through some of my old drafts that I never posted over the years (there are over a hundred) and I think I will post some that I find notable every once in awhile. They date back to 2010. 
I thought this post was funny because I continue to have the exact same thoughts about Christmas and this year I screeched the exact same thing: "YOU BREAK IT, YOU BOUGHT IT!" when the annual throwing contest began once again. This year it was stuffed plush snowballs, OMG just kill me now. 
Also notable for some history on my love of nail polish. 
Post Title: BACK AT IT (the grind, that is)
Date: 12/31/11
CHRISTMAS:
The Post-Christmas report? Well, I had to sacrifice my garbage disposal to the gods in order for Christmas to occur, but on the plus side, the cousins did not destroy anything else in my house during their wrapping paper fight, a highly aggravating and destructive family tradition that I put the kibosh on when I told them if they broke anything they would have to pay for it… right after they beaned my chandelier.
Sigh. Family. Gotta love it.
Well, tolerate it.
The thing is, this Christmas I never did feel the Christmas spirit, and honestly I think it has a lot to do with the fact that I lost both my grandfathers this year, and the first Christmas without them was peculiar. 2011: the Great Scourge of Grandpas. I hope next year, as we move on with our lives, will be a little better. We're coming up on the 1 year anniversary of Jason's death, and it's so hard to believe that it's already been a year. I really miss him crabbing at me. He had this thing
On the plus side, I am the happy new owner of LEGEND OF ZELDA: SKYWARD SWORD! Purchased for me by my father, which I find vastly amusing. I just need to get a Wii Motion Plus add-on for my controller and I will be ready to hack and slash. I should also note that I haven't actually beat LoZ: Twilight Princess yet; it sort of got lost in the shuffle when I moved. Three years ago. Ahem. I should dig out my Gamecube.
Also: I am two thirds of the way to my beautiful MK watch, hurrah!
NAIL POLISH OBSESSION:
I let it slip in my last post that I am currently embroiled in a sleazy love affair with nail polish. Margie commented that she too has fallen under its dastardly spell!
Uh, so this summer I maybe had like 10 nail polishes? Mostly old ones. I used to paint my nails a lot when I was in high school and just sort of fell out of the habit. And then, my friends, I discovered OPI. I can pinpoint the fixation to the last weekend of August when Abby and I were at Ulta at Tanforan and I spied the Serena Williams Grand Slam duet box of a fabulous glass fleck tomato red and the world's most perfect gold/bronze: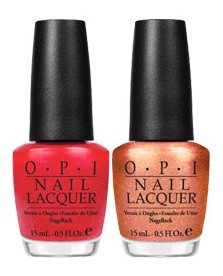 Mmm. Since then, I've gone on periodic binges with people (Malvina… Abby…Penny… etc.) and the collection has grown. Just yesterday I hit a post Christmas sale at Sally's Beauty and managed to get two of the holiday collection gift boxes from China Glaze and Orly for – get this – $8!! That's like saving at least $22 on all that. They were marked down and then there was a 50% sale on all redlined items. OH. EM. GEE.
And then there's the layering polishes – glitters, flakies, shimmers.
Oh God, you guys, it's a full blown obsession!
I love colors a lot – and have a lot of them now. But what I find myself gravitating towards in daily wear are neutral metallics; they are definitely my favorites. I say this on a day I am wearing shimmering green with gold micro-glitter layered on top. Ahem.